During the 24th, 25th and 26th of March, the V Meeting was held Erasmus + ' Art for Coexistence ', which took place in Berlin. ' Art for coexistence ' has the participation of Fundación Yehudi Menuhin España and for this appointment the Spanish delegation is made up of people from the University Rey Juan Carlos, the City of Velilla de San Antonio, represented by its mayor and the Councillor for Education and Culture, together with artists and educational centers participating in the Project and people of the Foundation Yehudi Menuhin Spain to form a group of thirteen people. On March 26th, the last day of the meeting, the assistants of the same could go to the Carl-Kraemer-Elementary School, located in the district of Wedding, in which students of this school we were welcomed reciting some texts in English written by themselves during the pre-meeting classes. After that, the principal welcomed us to the school and invited us to share experiences in a coffee talk. At 10:30 The group of attendees to the meeting was divided into two to be able to attend separately two workshops carried out by different artists.
In the first place, Fernando worked sound and silence with first graders through different theatrical dynamics; After him, Barbara did a clown workshop in which the boys and girls of fourth year practiced different blows and falls always in a tone of humour to finish with a dynamic in which they practiced the figures of Augustus and Contraugusto.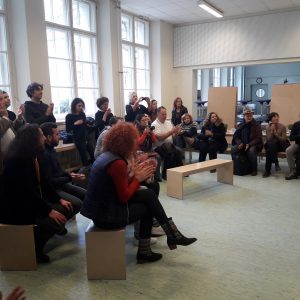 THE meeting ended up sharing a meal where they could share different conclusions drawn from the visits made during those days. In General, he highlighted the good atmosphere generated in the group and the usefulness of enhancing personal moments of encounter so that the work "online" is easier to make. With a lot of energy and trusting in the progress of the project, the attendees ended the same and with desires to return to coincide in the next meeting to be held in the month of May in Évora (Portugal).